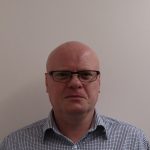 I am Stephen Maxwell and I was appointed by the Bishop of Lancaster as a Foundation Governor for St. Joseph's School.
My association with the school dates back to 1986 when I was a pupil, leaving in 1991 to start my working career with a large Financial Organisation, where I have now completed over 26 years' service. I have experience in Banking, Finance and Project Management.
I am an active member of the parish of 'Christ the Good Shepherd'.
I feel privileged to be given this opportunity to serve as a Governor of the school and I look forward to supporting my fellow Governors, our Head teacher and staff in promoting the Catholic Faith and Ethos of the school. While also ensuring the safeguarding of our pupils and seeing them leave the school having achieved their full potential to strive for greater things.