National semi-finals of the FA People's Cup.
Workington St Joseph's Walking Football team travelled to Manchester to take part in the national semi-finals of the FA People's Cup.
The County winners were up against Blackpool, Bolton, Amlwch (from Wales) and Man City and it was an extremely competitive event with any of the 5 teams capable of winning the event.
A 1-0 win in their first match against a strong looking Blackpool, who had seen off reigning national champions Fleetwood in qualification, had Workington dreaming but a late goal from Amlwch (who would go on to win the event) dented those dreams a little
losing the second match 3-2.
The next match saw Workington take on the big guns of Man City but two goals in the first two minutes meant Workington were always chasing the game and despite being the better team for most parts of the match a 4-1 reversal meant that those initial dreams of making the national finals at St George's Park had to be put on hold for another year.
The last match saw a return to form with a very convincing 3-1 win over Bolton.
Scores
Won 1-0 v Blackpool (eventual runners up)
Lost 3-2 v Amlwch town (eventual winners)
Lost 4-1 v Man city
Won 3-1 v Bolton
The team were:
Back (l to r) David Wise, Mark Porthouse, Warren Birch, Michael Graham, Andrew Brown
Front: Graham Blamire, Brian Crelling, Peter McAleavey
---
WORKINGTON'S WALKING FOOTBALLERS SHINE AT FA PEOPLE'S CUP
Saturday the 23rd of February saw Workington St Joseph's walking football team take part in the FA People's Cup competition at Carlisle. The event is a five-a-side competition aimed at players aged 50 or over and this was the second time that Workington had taken part.
Although the game is a slower version of the normal game it is nevertheless very competitive and from a strong field that boasted 3 teams from Carlisle, Penrith and Scottish Cup winners Gretna it was the Workington side who came out on top.
They now go through to the national semi finals at Manchester on Sunday the 24th of March. The prize for the national winners is to be presented with the trophy on the Wembley pitch at half time during the FA Cup Final.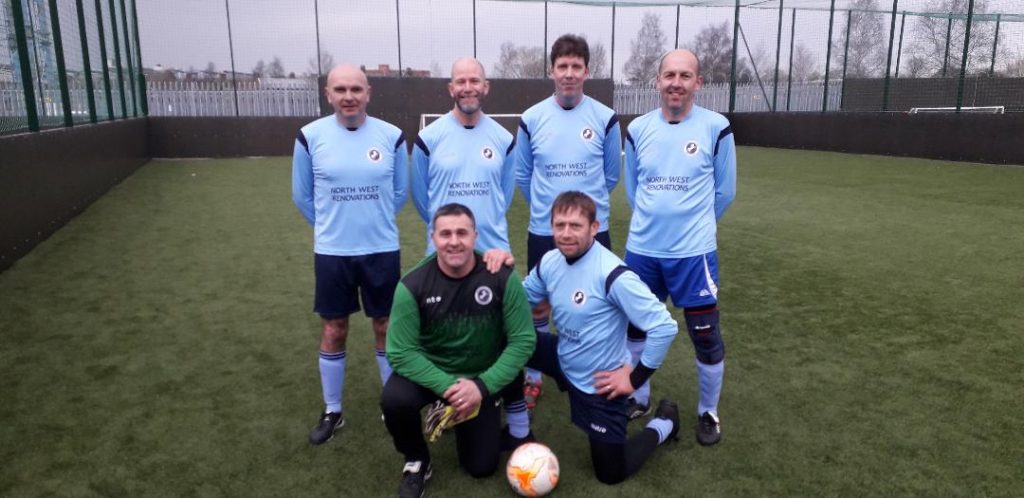 Team from left to right; back row: Mark Porthouse, Warren Birch, David Wise, Andrew Brown
Front: Brian Crelling, Graeme Blamire.
Walking Football sessions are held at St Joseph's School Mondays and Fridays from 5 to 6pm. Although aimed at ages 50 plus the sessions are available for younger players. The team competes in the over 50 and over 60 leagues on a monthly basis.
---
WALKING FOOTBALL FESTIVAL KICKS OFF REGULAR COUNTY MONTHLY COMPETITIONS
Sunday the 27th of January saw Workington St Joseph's two 6-a-side Walking Football teams took to the excellent astro pitches at Lakes College to take part in Cumberland FA's first ever Walking Football festival.
Walking Football, which is aimed at getting people over the age of 50 back into Sport was established through funded weekly sessions at St Joseph's in 2016 and has seen a steady growth over the past three years with over 30 registered players attending twice a week. 2017 saw Workington take part in 3 competitions and they are now part of the county league which holds monthly league and cup fixtures. The team now have their own strip and are planning many social occasions too.
The festival at Lakes College was attended by teams in over 50 and over 65 categories from Carlisle, Penrith and Grange over Sands and despite the very cold and windy conditions it was a huge success with everyone commenting on how it was played in the correct spirit.
February sees Workington sending 2 teams to the FA People's Cup at Carlisle to take part in the nationally linked event with the winners going through to the regional finals in Manchester.
Anyone interested in Walking Football at St Joseph's should call Sports Development Officer David Wise on 07742547767.
---