We have had a fantastic February half term of Sports activities at St Joseph's with Mr Wise and his Coaching team delivering activities such as Football, Boccia, Tag Rugby, Tennis and Cricket. The dates for the rest of the academic year are below.
Dates for Sports Camps 2023
Summer – First 2 and last 2 weeks of the holidays:
Week 1 – 24,25,26,27,28 July
Week 2 – 31 July, 1,2,3,4 August
Week 3 – 21,22,23,24,25 August
Week 4 – 29,30,31 August, 1 September (Monday is a bank holiday)
Sports Camps

Each School holiday Sports Development Officer David Wise runs a variety of Sports camps from the School site. With activities ranging from Fishing and Archery to Football, Tennis and Multi Sports and often linking with local clubs in the area the camps cater for ages 4 and upwards and are designed to offer low cost, exciting and challenging Sports coaching sessions. David coaches as well as bringing in other specialist Coaches and he also has a team of young Sports leaders who help to run the camps culminating in a 4 week Summer holiday programme.
The programme is also supported by the County Council post-pandemic funding (HAF) and provides free places and free, hot meals during our Christmas, Easter and Summer camps.
Evening Activities

We have a fantastic Sports Hall on site and Mr Wise provides Tennis (Tuesdays) and Football (Wednesdays) sessions for children in there during the winter months (outdoors from Easter).
ALL EQUIPMENT PROVIDED!
Mondays, Wednesdays and Fridays:
5.00 – 6.00pm –Walking Football for Men & Women over 40
£3.00 per session outdoors on the Astro.
(See report & link below)
---
Tuesdays:
5.00 – 6.00pm – Tennis for years Year 2 to Year 6 – Sports Hall
THE place to begin your child's Tennis adventure. A fun hour of Tennis development with licensed Level 3 Affiliated LTA Coach and St Joseph's Sports Development Officer David Wise. £4 per session.
---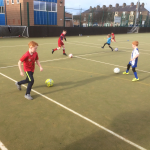 Wednesdays:
5.00 – 6.00pm –Play Football: -Sports Hall. For school years 1 to 5 £4.00 per session. An ideal place to try Football, learn the skills and get the confidence before joining a local club. Coach David Wise takes the kids through their game based paces with loads of matchplay and learning the basics in a great environment!
Mondays & Fridays 5.00pm to 6.00pm (Outdoors year round on the Astro pitch).
Walking Football made its debut on the 18th of January 2016 at St Joseph's School with the first session held in the old Sports Hall.
Primarily aimed at the over 40's and designed to use the skills of the game but at a slower pace it really is a great Sport to play.
Having led the first session Sports Development Officer David Wise said "The idea of playing the game at walking pace is strange but it really is a good work out as you need to be passing and moving all the time". "Tactics play a much larger part and the skill levels remain high as well".
"In fact, it would be a good idea if children played this way in training as it really encourages players to keep the ball down and play the game properly". We now train 2 times a week at St Joseph' on Mondays and Friday sat 5pm to 6pm and have 50 players signed up.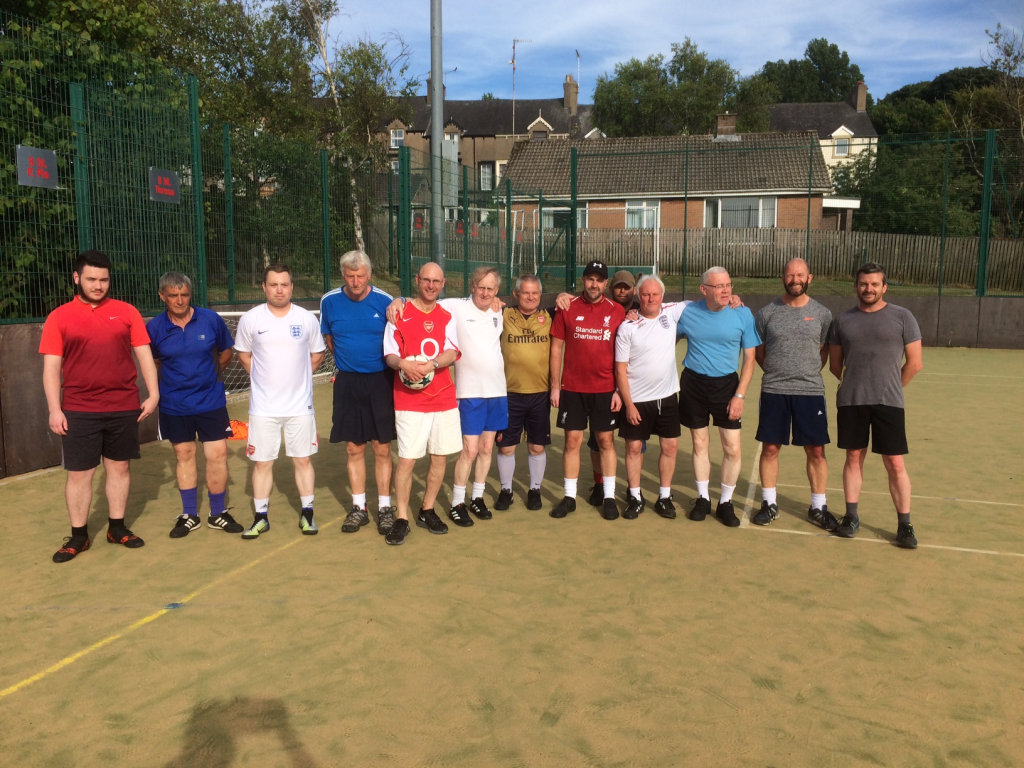 St Joseph's have 2 teams operating in the Cumberland FA county league. The teams have also won the county cup for the past 4 years and qualified for the 2019 FA People's Cup regional finals in Manchester where we played against Bolton, Blackpool and Manchester City.
Sessions cost £3 each. Anyone wanting to book a place should contact David on 07742547767 or alternatively just turn up! All you need is sporty clothing and trainers.
For more info on this amazing game please visit https://www.walkingfootballunited.co.uk/
ST JOSEPH'S SPORTS DEVELOPMENT YOUTUBE CHANNEL
Mr Wise now has a dedicated YouTube channel for his activities. On here you can see Waling Football in action along with many other Sporty things. Please take a look at the link below:
https://www.youtube.com/channel/UCjWyJPHUu0HsjiBw_R1gsxA
When on the site please don't forget to subscribe!